Career opportunities come to those who are quick and ready; if you are passionate about truck driving, you have 16 schools to choose from in the state of Oklahoma.
Costing $4,215 at average, the tuition isn't the lowest but certainly isn't too high either.
The material prospects of future students are further helped by the wide availability of scholarship opportunities, with an average amount of $1,132.
Among many options, Martin Zemler Automotive Scholarship should especially be the one to consider; since it can also cover tuition cost for a diesel technology education.
Getting an Orientation: Oklahoma Truck Driving Schools
The wide availability of schools and education options make Oklahoma an excellent state to being your career in the transport industry; among so many schools, you can always find something that suits your needs.
As is true elsewhere, the small class size is one of the most important conditions to look for then searching for a school.
In a small class, it is much easier to get to know and communicate with your professor and to get practical work experience, in the driving seat.
Altus Area Truck Driver Training, Cado Kiowa Technology Center, and Gordon Cooper Technology Center are just some of the schools in Oklahoma boasting small class size.
The schedule is no less important, especially for diesel technology students.
Often, diesel technology education lasts two years, but there is a shorter option too.
At Gordon Cooper Technology Center, for example, you can obtain a diesel technology degree by following a regular class program for one year (Mo-Fri).
9 Top CDL Schools in Oklahoma
| School Name | Address | Phone |
| --- | --- | --- |
| American Truck Training | 3200 Aluma Valley Dr, Oklahoma City, OK 73121 | 855-875-6051 |
| Caddo Kiowa Technology Center | 1415 7th St, Fort Cobb, OK 73038 | 405-643-5511 |
| Central Tech Truck Driver Training | 3 CT Circle, Drumright, OK 74030 | 918-352-7311 |
| Roadmaster Drivers – Tulsa, OK | 2215 N Sheridan Rd, Tulsa, OK 74115, USA | 918-834-6221 |
| American TDS | 3501 SW Sheridan Rd, Lawton, OK 73505, USA | 580-250-1121 |
| Arbuckle Truck Driving School | 15167 Old US Hwy 70, Ardmore, OK 73401, USA | 800-560-2837 |
| Central Tech Driving School | 1720 S Main St, Sapulpa, OK 74066, USA | 918-224-9300 |
| Indian Capital Technology Center - Sallisaw | 401 Houser Rd, Sallisaw, OK 74955, USA | 918-775-9119 |
| Redlands Community College | 1300 S Country Club Rd, El Reno, OK 73036, USA | 405-262-2552 |
At a Glance: Trucking Schools in Oklahoma
| | |
| --- | --- |
| Total Schools: | 9 |
| Undergraduate Programs: | 13 |
| Graduate Programs: | 4 |
| Average Acceptance Rate: | 51% |
| Average Tuition Cost: | $11,882 |
| Average Loan Amount: | $6,039 |
| Average Scholarship Award: | $3,363 |
| Average Classroom Size: | 15 Students |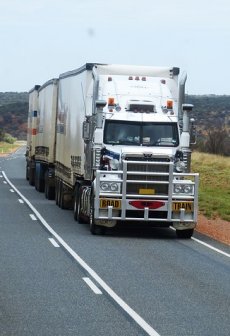 From School to Work: Getting a Trucking Job in Oklahoma
Do not hurry! Carefully study various employment options before sending an employment offer.
Contact various venues, firms, repair shops, truck dealers, try to have many options to choose from.
Here are some places where you could start: C.R. England, Blueknight Energy Partners, and Gordon Trucking.
The task of finding a job will be much facilitated by strong job forecast in Oklahoma. O*Net predicts a 13% growth of trucking jobs and 12% growth in diesel mechanic jobs in the 2012 – 2022 period.
Counting (on) Your Salary
By overcoming all the obstacles and becoming a truck driver or diesel mechanic, you stand a pretty good competitive chance against your peers with similar education level.
The average wage suffices for a comfortable life, leaving you free to chase your passion: driving and tinkering with motor vehicles.
Not to forget: an average wage of a truck driver in Oklahoma is currently $41,430.
For further salary information, consult the information and the table offered below.
Annual Salary Range:
Average Salary of Truck Drivers in Oklahoma
| City Name | Salary |
| --- | --- |
| Oklahoma City | $41,796 |
| Tulsa | $42,197 |
| Norman | $41,532 |
| Lawton | $37,508 |
| Broken Arrow | $42,065 |
| Edmond | $41,664 |
| Adams | $40,064 |
| Enid | $41,399 |
| Moore | $39,189 |
| Stillwater | $41,399 |
* Salary information last updated 2023