Have you ever yearned for the freedom of long, scenic drives?
Or picture yourself at the wheel of a truck, in yet a new city?
Imagined the thought of driving for a living?
You may just find yourself longing to be a truck driver.
We've all seen the reality shows, we all know a little bit about the 'trucker' culture, but do you know what being a truck driver really entails?
What an average day as a truck driver really looks like?
Fear not if you're now asking questions – we have all the answers.
This guide has been put together to give a detailed, thorough review of the truck driving industry and how to pursue a career in it!
In order to become a truck driver, you'll need extensive knowledge of various aspects of the industry; you can find this throughout our guide: we talk salary, job satisfaction, and licenses.
Consider this – your job as a truck driver would include abiding by strict laws pertaining to time and distance driven while working.
And did you know that you have to undertake rigorous examinations and training programs before you can become a fully licensed truck driver?
Many do not understand the responsibilities involved prior to entering into the truck driving profession, so we seek to give you as much information as we can to make sure you're fully prepared to begin your new, exciting career!
---
What Do Truck Drivers Do?
The main responsibility of a truck driver's role is to move goods from one destination to another in a sizeable semi-truck.
They're responsible for the safe delivery of the goods within a specified timeframe – good time management is essential in this role.
Asides from delivering and collecting packages, truck drivers are expected to maintain their truck, transport materials, load their trucks and keep a record of their driving times and distances to abide by federal law.
Usually, truck drivers are provided with routes by their dispatchers, but may often be required to plan their own routes.
As is the case with all employees; the drivers must take regular, planned breaks (a rest from driving) throughout their trips; this regulation still applies if the driver does not feel particularly in need of a break.
Just like other drivers, truck drivers are required to meet all safety regulations and abide by all traffic laws – they must also have specialized safety equipment on hand in the event of an accident.
Truck drivers are also responsible for maintaining up to date knowledge on all traffic laws pertaining to them specifically.
Duties
Transporting goods
Loading vehicle
Maintenance of the truck – keeping it clean and in good working order
Mending minor issues with the truck
Reporting more serious issues with the truck
Maintenance of driving record (time/distance)
Adhering to schedule
Recording accurate and legal mileage and hours, in line with the federal law
Driving large distances
Abiding by traffic laws pertaining to their profession
Raising important mechanical issues with the relevant department
Reporting any incidents that may have taken place during a trip
Secure shipments within the truck in the correct manner
---
Truck Driving Salary
We'll be clear – there's no one definitive figure to provide in terms of the salary of a truck driver.
Some truck drivers are raking it in, this is true, but on the whole, the overall salary is an average figure.
Different companies have different criteria and pay levels, we know this.
So, as a truck driver, your salary can vary depending on company certifications and specifications.
Most reported wages vary from anything between $45,012 to $58,000, making the median salary around $50,971.
Other factors such as state and jurisdiction can come into play when discussing the salary of a truck driver, however.
Monster.com actually reported that while drivers still fairly new to the trade can expect to earn around $38,000, there are groups of drivers that have managed to secure a wage of around $100,000 per year!
We would stick with the median figure, though, when trying to get an idea of the wage to expect.
Hey, $51,000 is not so bad!
Average National Salary:
$50,971
Average CDL Salary by State
| State | Salary |
| --- | --- |
| Alabama | $43,995 |
| Alaska | $51,280 |
| Arizona | $43,634 |
| Arkansas | $40,549 |
| California | $49,232 |
| Colorado | $43,943 |
| Connecticut | $47,909 |
| Delaware | $44,075 |
| Florida | $42,312 |
| Georgia | $42,532 |
| Hawaii | $46,410 |
| Idaho | $41,599 |
| Illinois | $45,410 |
| Indiana | $43,061 |
| Iowa | $42,091 |
| Kansas | $41,267 |
| Kentucky | $41,034 |
| Louisiana | $41,853 |
| Maine | $42,488 |
| Maryland | $45,794 |
| Massachusetts | $47,953 |
| Michigan | $44,516 |
| Minnesota | $44,956 |
| Mississippi | $38,230 |
| Missouri | $41,871 |
| Montana | $39,882 |
| Nebraska | $40,417 |
| Nevada | $45,397 |
| New Hampshire | $44,736 |
| New Jersey | $48,923 |
| New Mexico | $40,086 |
| New York | $41,751 |
| North Carolina | $42,047 |
| North Dakota | $40,990 |
| Ohio | $42,973 |
| Oklahoma | $41,430 |
| Oregon | $43,898 |
| Pennsylvania | $43,987 |
| Rhode Island | $46,455 |
| South Carolina | $40,899 |
| South Dakota | $37,596 |
| Tennessee | $40,042 |
| Texas | $43,193 |
| Utah | $41,758 |
| Vermont | $42,444 |
| Virginia | $43,383 |
| Washington | $47,072 |
| West Virginia | $38,830 |
| Wisconsin | $43,414 |
| Wyoming | $39,130 |
* Salary information last updated 2023
---
How to Become a Truck Driver
Step 1

Get Yourself a Regular Driver's License

It sounds a little silly, but it definitely is the first step.

You've no chance at getting behind the wheel of a mega truck if you've not yet mastered a Ford!

Be sure to obtain your regular license first, you'll then eventually be able to follow by earning your CDL – commercial driver's license.
Step 2

Complete Your Education Requirements

It's always better to have certifications and educational achievements in your name when you're looking to get started in any new career, but the Bureau of Labor Statistics has reported that it's not entirely necessary to have your high school degree to find your place in the truck driving industry.

However, serious candidates do enroll in community colleges or private driving schools in order to study and complete the truck driving curriculum and make an easier entrance into the industry.

Of course, tuition fees will apply, and the programs can last for several months and sometimes up to a full year, but there is always the option of seeking tuition assistance.
Step 3

Earn Your Required Licenses

As aforementioned, you are required to pass your CDL exam in order to progress with your truck driving career.

The aspects of the CDL exam can be studied in your educational courses.

Truck drivers are expected to pass tests pertaining to their knowledge of federal traffic laws and the quality of their sight and vision – these topics are included in the Federal Motor Carrier Safety Regulation examination.

There is also an option to acquire a CLP – Commercial Learners Permit – while learning as a pupil of an experienced, CDL licensed driver.
Step 4

Experience

Experience – the frustrating aspect of job-hunting! Employees want you to have it, but nobody seems willing to give you it, it's a catch-22!

But do not get disheartened if you're struggling to get into a job once you've completed the training and educational aspect of things.

There's always apprenticeships and internships that you can take on – in these positions, you'll be able to build your skills and get acquainted with the more practical aspects of the role before you take the leap and apply for the job.

Find Schools
---
What Education is Required?
As we've already discussed, education and diplomas are not entirely necessary if you want to become a truck driver, but they certainly do help!
There are only beneficial effects to be felt from enrolling on a course or achieving a particular certificate – it will only further your career.
And besides, some jurisdictions do demand that you enroll in accredited colleges to pass examinations.
So, in short, the education required does vary across states and companies – but it is always better to have the education on your side!
Video About The Career
---
What Certification is Required?
Again, this will change dependent on states.
In certain states, an ordinary drivers' license would suffice – but in most states, you will need to have passed certain license exams, including the CDL exam and the Federal Motor Carrier Safety Regulation exam.
The latter will require a written piece on federal laws.
Certification Example: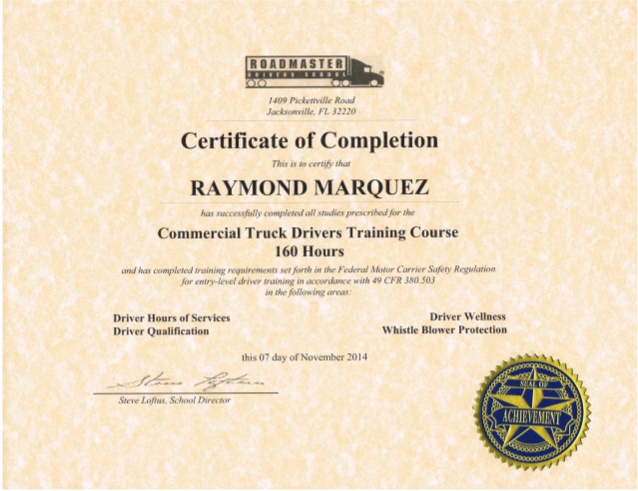 Average Training Program Duration:
6-12 Months
---
What is the Job Outlook for Truck Drivers?
There's a demand for truck drivers, and worry not, the demand is expected to continue.
The truck-driving industry is heavily based on commercialism and spending and we all know that this is not showing any signs of stopping, so the trucking industry is actually expected to increase by 6% between 2016 and 2026.
Now seems like the perfect time to get on board!
Employment Growth Projection:
6%
That's a higher than average projected growth of 108,400
---
Should You Become a Truck Driver?

Overall Satisfaction:
Medium
For all the perks of being a truck driver, there are also plenty of pitfalls to consider, too.
We've considered these downsides and factored it into our conclusion that truck-driving provides a medium level of job satisfaction.
It's true, you can make good money as a truck driver and the job occupancy rate is expected to sky-rocket, but you'll also forfeit a lot of time that could be spent personally – with family, friends, the people that you love.
You must also consider that havoc that trucking wreaks on your body-clock – say goodbye to any semblance of a sleeping pattern!
A lot of truck-drivers do feel a lot of stress, but the job itself pays well, is flexible and is secure.
Job security is one of the most sought-after things in this day and age – we all fear the prospect of finding ourselves out of work and being unable to keep up with the bills, but there is no danger of this in trucking.
The American Trucking Association have stated that there is in fact a serious shortage within the industry, so much so that it could damage the US distribution system!
Some individuals find truck driving as a welcome escape from their previous dreary, 9-5 working life.
Truck-driving provides variety – while you may work up to 70 hours a week at times, you can guarantee that all your trips are unique, and there will always be something memorable that occurs along the way.
The salary itself is also enough to encourage people to overlook the downfalls of the industry – it is a comfortable wage, and for those who genuinely love to be on the road and venture into new places.
It's a chance to get paid to do what they enjoy the most.

Average Salary:
High
As we've already covered, the truck-driver salary is around $50,971 on average.
If you compare this to salary figures of a decade ago – which were more in the range of $20,000 – then you can really see how the wage has increased alongside the demand for drivers.
And you already know by this point that the demand for truck drivers is only continuing to grow alongside commercialism and trade – so you can expect that the wage may rise too.
Overall, we've concluded that the salary is quite high considering the work and the requirements.

Job Growth Outlook:
Medium
The job does provide security, and it is expected to grow to meet the rate of commercialism, but we must conclude that the job growth is average.
Consider the growth in careers within the technology field – more and more businesses are becoming reliant on the use and development of technology, so you could state that job growth is high in this field.
To further touch on the topic of technology – it is also worth considering the advancements in technology in terms of vehicle usage.
Developments are consistently making vehicles easier to operate, which will subsequently open to roles to a wider group of people – applicants who may have previously struggled with obtaining certification and operating a large vehicle will find it easier and the job itself can be made safer.
Overall, truck-driving will continue to grow in demand at a steady rate, considering there are serious shortages within the industry – so it's pretty much guaranteed that employees will continue to be required.

Education Duration:
6-12 Months
While levels of education and certification will vary depending on the state, the average length of time it takes to become qualified is usually between 6-12 months.
Some establishments will demand a full year in training, as well as education.
But, other private establishments may facilitate a more practical, apprenticeship-type approach that allows you more time in a hands-on learning environment and less time spent studying on a course.

Personal Skills Needed
You could take all the examinations in the world and obtain umpteen certifications, but there are certain personal skills required in order to meet the truck-driving criteria – and those are:
Mental resilience
Determination
Effective communication
Endurance
A propensity to work alone
Ability to work as part of a team
Ability to detect any issues quickly
Creative thinking
Problem resolution
Passion
---
Frequently Asked Questions
Q. Do You Make Good Money as a Truck Driver?
There are outliers within the statistics of truck-driver salaries; some reports range from $38,000 to $100,000.
The average salary, however, is $50,970 per year – the usual range is $45,000 – $58,000.
Q. How Long Does it Take to Become a Truck Driver?
This depends on the kind of training program that you have enrolled in – some establishments require a few weeks, others require a whole year.
The private training programs that can qualify you in a matter of weeks often expect a little bit more money for this service, so if you are looking to get the education at a lesser price, there are community college courses that you can enroll in – your training should be completed in just under a year.
Q. What License Do You Need to be a Truck Driver?
You'll, of course, need to begin with your regular drivers' license, and will then need to obtain your CDL (Commercial drivers' license) by passing the exams of the Federal Motor Carrier Safety Regulation.
You will also need to successfully complete several safety and regulation courses and maintain your knowledge of your legal requirements
Q. What Kind of Skills Do You Need to be a Truck Driver?
You will need to be a determined and motivated individual to pursue a career in trucking.
You'll need to be organized and able to meet deadlines, you'll remain aware of safety regulations and will need excellent communication skills.
As a truck driver, you will also need to have great vision and hearing – remaining aware of your environment and maintaining an excellent level of judgment and rationality.
It also requires you to be able to be seated for extended periods of time.
Q. How Much Does It Cost to be a Truck Driver?
Trucking schools can cost between $3,000 and $7,000 – it all depends on the type of license class that you're looking for.
Certain programs that can provide you financial aid, there is the option of taking out a loan, or you may also find that some potential employers are willing to pay for you to complete the program.
The sooner you get saving, the better!
---
Truck Driving (CDL) Schools by State

Find Schools