If vehicles are your greatest passion and you are also looking for a chance to launch your career in this field, you may consider enrolling one of the trucking/diesel mechanic schools available in Alabama.
By attending any of them, you would be able to get a trucking license and also get a degree in diesel technology as well.
Luckily, the average schools in Alabama are affordable for anyone, since the tuition cost is $4,054, so this is just one more reason to take a leap of faith towards your dream!
From the trucking programs that Alabama offers, you can earn a CDL, while you can also manage to prepare an ASE certification through diesel technology programs at the same time.
However, you have options to consider in many schools, such as Bevill State Community College, wherein you can choose to earn a short-term or long-term certificate in diesel technology-You choose every time!
Depending on the type of certification you want, the length of the programs in Alabama schools vary.
For this reason, you may be able to finish your truck driving education for only a couple of weeks, and since each truck driving program is designed in a way that will prepare you for the written CDL exam as well as for the practice part of the driving exam, the effort is worth it all the way.
To your advantage, there are colleges who hand you the opportunity to complete your certification testing inside the campus itself.
This you will save you both time and money because you can take the test shortly after graduation and enjoy the student discount the school offers.
For instance, H. Councill Trenholm State Technical College provides a variety of testing services such as ASE Certification exam, the Certified Electronics Technician exam or your Commercial Driver's License Test.
Thus, the flexibility the school offers is stimulating!
Additionally, if you decide to enroll any of the Alabama schools, you will see many of them offer significant aid opportunities for their students.
For example, REID State Technical College offers full-tuition scholarships.
Apart from that, you can enjoy being part of employment settings, which include local and national trucking companies, regardless of the ownership of CDL or diesel technology certification.
These employment sources include some major ones in Alabama, such as C.R England, MTC Transportation LLC, and Beacon Transport.
The job perspective for truck drivers and diesel mechanics is indeed strong; O*Net foresees a 20% increase for truck drivers and a 13% increase for diesel mechanics as well.
With these advantages and flexibility, Alabama schools could easily be your best affordable choice for your future career in mechanics.
The Best CDL Schools in Alabama
These schools offer opportunities to develop in the trucking field by the means of exams, earn a certificate as well as the driving license.
Another advantage is the discount some school offer to their students.
Then, there is flexibility to switch to different activities which makes it easier for those who struggle to meet deadlines.
The schools offer access to employment opportunities which plays a huge role in student motivation.
There are affordable school tuition as well as a satisfactory scholarship at the end of the year.
21 Top CDL Schools in Alabama
| School Name | Address | Phone |
| --- | --- | --- |
| Bevill State Community | 17 Main St., Sumiton, AL 35148 | 205-648-3271 |
| Truck Driver Institute | 4939 US Hwy 78 W, Oxford, AL 36203 | 800-642-7364 |
| Trenholm State Technical College | 1225 Air Base Blvd, Montgomery, AL 36108 | 334-420-4200 |
| Southern Union Community College Opelika Campus | 1701 LaFayette Pkwy, Opelika, AL 36801 | 334-745-6437 |
| Shelton State Community College | 801 Main St NW, Hanceville, AL 35077 | 866-350-WSCC |
| Reid State Technical College | PO Box 588, Evergreen, AL 36401 | 251-578-1313 |
| Premier Driving Academy-Theodore, AL | 7601 Theodore Dawes Rd, Theodore, AL 36582 | 251-653-5235 |
| Marshall Technical School | 12312 US Hwy 431, Guntersville, AL 35976 | 256-582-5629 |
| LBW Community College MacArthur Campus | 1708 North Main St, Opp, AL 36467 | 334-493-3573 |
| H Council Trenholm State Technical College | P.O. Box 10048, Montgomery, AL 36108 | 334-420-4200 |
| ESD SChool, LLC | 116 Ipsco Street Northwest, Decatur, AL 35603 | 256-432-0430 |
| ESD School LLC | 2119 8th Avenue North, Bessemer, AL 35020 | 205-426-8486 |
| Central Alabama Community College | 1009 South Street East, Talladega, AL 35160 | 256-480-2066 |
| Central Alabama Community College | 1675 Cherokee Rd, Alexander City, AL 35011 | 256-234-6346 |
| Calhoun Community College Decatur Campus | PO Box 2216, Decatur, AL 35609 | 256-260-2462 |
| Bishop State Community College | 925 Dauphin Island Pkwy, Mobile, AL 36605 | 251-405-7000 |
| American Truck Driver Academy Inc | 5018 US Hwy 80 W, Opelika, AL 36804 | 334-298-9194 |
| Alabama Benz Driving Academy | 4300 Birmingham Highway, Montgomery, AL 36108 | 334-834-9890 |
| Affordable Truck Driver Training LLC | 170 Franklin Smith Road, Moulton, AL 35650 | 256-974-4120 |
| Wallace State Community College-Hanceville | 801 Main St NW, Hanceville, AL 35077 | 866-350-WSCC |
| Central Alabama Community Colllege | 34091 US Hwy 280, Childersburg, AL 35044 | 256-378-5576 |
At a Glance: Trucking Schools in Alabama
| | |
| --- | --- |
| Total Schools: | 21 |
| Undergraduate Programs: | 20 |
| Graduate Programs: | 4 |
| Average Acceptance Rate: | 71% |
| Average Tuition Cost: | $5,370 |
| Average Loan Amount: | $4,857 |
| Average Scholarship Award: | $3,082 |
| Average Classroom Size: | 19 Students |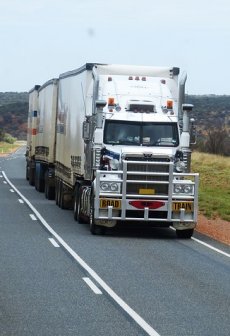 Being a Truck Driver in Alabama
Being a Truck Driver in Alabama requires a high-school diploma possession at least.
However, being a Heavy Truck Driver you need three years of experience in this job.
This kind of Truck Driver's job is to transport goods from a destination to the other.
Its duty is to ensure the reception, preparation, and provision of documents for the delivery and pick up of the goods in a timely service.
Truck Driver Salaries in Alabama
There are different salaries for Truck Drivers in Alabama.
The minimum Truck Driver salary goes round to $38,838 per year.
Next, the average salary is $43,995 per year.
Whereas, the maximum salary for Truck Drivers in Alabama is $50,986, yearly.
In general, these sums are satisfactory because they change all the time.
And, while you can do this profession even with a high-school education, the wages are really welcomed.
Annual Salary Range:
Average Salary of Truck Drivers in Alabama
| City Name | Salary |
| --- | --- |
| Birmingham | $41,391 |
| Montgomery | $39,366 |
| Mobile | $40,725 |
| Huntsville | $41,619 |
| Tuscaloosa | $41,248 |
| Hoover | $39,741 |
| Dothan | $38,843 |
| Decatur | $40,347 |
| Auburn | $39,440 |
| Gadsden | $41,153 |
* Salary information last updated 2023
CDL Schools by City